Successful therapeutic plasma exchange in cold autoimmune hemolytic anemia in patient with disseminated tuberculosis
N. Belfeki | belfeki.nabil@gmail.com

Department of Internal Medicine, Groupe Hospitalier Sud Ile de France, Melun, France.

https://orcid.org/0000-0002-9736-6732

A. Strazzulla

Department of Internal Medicine, Groupe Hospitalier Sud Ile de France, Melun, France.

P. Isnard

Department of Pathology, Hôpital Necker des Enfants Malades, Paris, France.

https://orcid.org/0000-0002-1880-7596

S. Hamrouni

Department of Internal Medicine, Groupe Hospitalier Sud Ile de France, Melun, France.

B. Maamar

Department of Microbiology, Hôpital Avicenne, Bobigny, France.

P. Soulier

Department of Intensive care, Groupe Hospitalier Sud Ile de France, Melun, France.

M. Monchi

Department of Intensive care, Groupe Hospitalier Sud Ile de France, Melun, France.

S. Diamantis

Department of Internal Medicine, Groupe Hospitalier Sud Ile de France, Melun, France.

https://orcid.org/0000-0001-6272-4707
Abstract
An association of autoimmune hemolytic anemia with disseminated tuberculosis is an exceedingly rare entity. We describe herein a case of cold hemolytic autoimmune anemia associated with miliary tuberculosis resolved with blood transfusions, therapeutic plasma exchange, and antituberculous agents. We discuss the advantages of therapeutic plasma exchange at an early stage in the management of this condition.
Downloads
Download data is not yet available.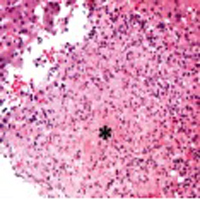 Info
Keywords:
Autoimmune hemolytic anemia, tuberculosis, therapeutic plasma exchange.
Statistics
Abstract views:

327



PDF:

123
How to Cite
Belfeki, N., Strazzulla, A., Isnard, P., Hamrouni, S., Maamar, B., Soulier, P., Monchi, M., & Diamantis, S. (2021). Successful therapeutic plasma exchange in cold autoimmune hemolytic anemia in patient with disseminated tuberculosis. Reumatismo, 72(4), 247-251. https://doi.org/10.4081/reumatismo.2020.1299
Copyright (c) 2020 the Author(s)
This work is licensed under a Creative Commons Attribution-NonCommercial 4.0 International License.