Pronounced dys-autonomic symptoms announcing a primary Sjögren's syndrome
F. Masini

Internal Medicine, Department of Advanced Medical and Surgical Sciences, University of Campania "Luigi Vanvitelli", Napoli, Italy.

https://orcid.org/0000-0002-4184-2808

L. Monaco

Internal Medicine, Department of Advanced Medical and Surgical Sciences, University of Campania "Luigi Vanvitelli", Napoli, Italy.

K. Gjeloshi

Internal Medicine, Department of Advanced Medical and Surgical Sciences, University of Campania "Luigi Vanvitelli", Napoli, Italy.

https://orcid.org/0000-0003-0874-9692

E. Pinotti

Internal Medicine, Department of Advanced Medical and Surgical Sciences, University of Campania "Luigi Vanvitelli", Napoli, Italy.

https://orcid.org/0000-0002-1275-9079

R. Ferrrara

Internal Medicine, Department of Advanced Medical and Surgical Sciences, University of Campania "Luigi Vanvitelli", Napoli, Italy.

P.C. Pafundi

Internal Medicine, Department of Advanced Medical and Surgical Sciences, University of Campania "Luigi Vanvitelli", Napoli, Italy.

https://orcid.org/0000-0002-0310-3529

M. Santini

Internal Medicine, Department of Advanced Medical and Surgical Sciences, University of Campania "Luigi Vanvitelli", Napoli, Italy.

https://orcid.org/0000-0003-1162-7805

T. Salvatore

Internal Medicine, Department of Advanced Medical and Surgical Sciences, University of Campania "Luigi Vanvitelli", Napoli, Italy.

G. Cuomo | giovanna.cuomo@unicampania.it

Internal Medicine, Department of Precision Medicine, University of Campania "Luigi Vanvitelli", Napoli, Italy.

https://orcid.org/0000-0002-4292-3589
Abstract
Sjögren's syndrome (SS) is an autoimmune disease that involves the nervous system in about 20% of cases. In 25-92% of patients affected by Sjögren's syndrome, neurological symptoms may precede the sicca syndrome. A 65-year-old male presented with a seven-month history of episodes of near-syncope, constipation, anhidrosis, disabling fatigue and asthenia. Physical examination was unremarkable, whilst the ECG revealed sinus bradycardia. Laboratory tests showed lymphopenia and normal inflammatory markers. In order to assess a potential autonomic neuropathy, "Deep Breathing Test" (E/I 1.02), "Lying to Standing Test" (R/R' 0.95), and "Orthostatic Hypotension Tests" (T 120s Systolic reduction >20 mmHg and Diastolic reduction >10 mmHg) were performed, all of which were abnormal. ECG Holter monitoring revealed sinus bradycardia, and right bundle branch block with 24-h blood pressure monitoring revealing a diurnal hypotensive profile. The patient reported a three-month history of worsening dry mouth. On physical examination, the patient had anisocoria in response to light stimulation. Auto-antibody testing was performed to evaluate the presence of any autoimmune disease. The results of these studies included an abnormal elevation of ANA (1:320 speckled pattern), Ro/SS-a (>240U/l), and La/SS-b (162 U/ml) antibodies. The patient was discharged with a diagnosis of "Autonomic Neuropathy Most Likely Due to Primary Sjögren's Syndrome (SS)" and started the immunotherapy. After one month, he reported a significant improvement in his symptoms with a concomitant normalization of his "Orthostatic Hypotension Tests." This case underlines the potential for dys-autonomic symptoms to precede the onset of sicca syndrome in patients with Sjogren's Syndrome.
Downloads
Download data is not yet available.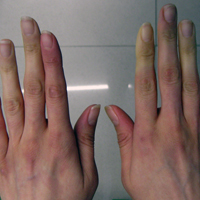 Info
Keywords:
Primary Sjögren's syndrome, dys-autonomic symptoms
Statistics
Abstract views:

400



PDF:

243
How to Cite
Masini, F., Monaco, L., Gjeloshi, K., Pinotti, E., Ferrrara, R., Pafundi, P., Santini, M., Salvatore, T., & Cuomo, G. (2020). Pronounced dys-autonomic symptoms announcing a primary Sjögren's syndrome. Reumatismo, 72(2), 111-114. https://doi.org/10.4081/reumatismo.2020.1241
Copyright (c) 2020 the Author(s)
This work is licensed under a Creative Commons Attribution-NonCommercial 4.0 International License.